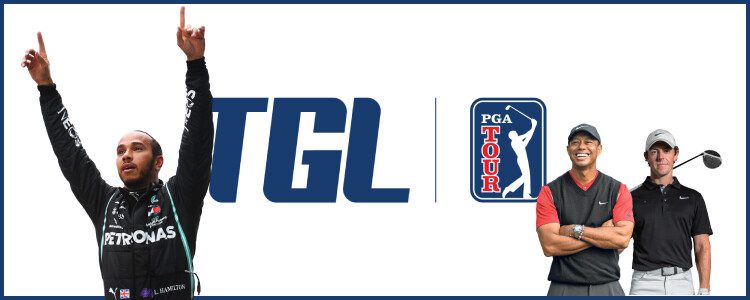 Tiger Woods and Rory McIlroy have made another major announcement as they seek to propel their golf technology venture into the stratosphere. Woods and McIlroy have been building up a high-profile list of investors at TMRW Sports over the past few months, pulling in legends from all sports to give their backing to their novel concept, which is designed to curb the influence of the LIV Tour.
Lewis Hamilton is the latest star to invest
Now it has been confirmed that seven-time F1 world champion Lewis Hamilton has become the latest name to throw his weight behind TMRW Sports. As far as Hamilton is concerned, the move represents another serious step in his bid to extend his business portfolio. He already has a minority stake in the Denver Broncos, and he was linked with a takeover of Chelsea earlier this year before Roman Abramovich sold the club to US businessman Todd Boehly.
Bringing golf to a new crowd
Back in August, Woods and McIlroy, together with Mike McCarley, CEO of The Golf Channel set up TMRW Sports — a sports and technology company — which set the wheels in motion for a ground-breaking tournament that would work in association with the PGA Tour. The convergence of sports and tech was designed to provide an alternative to the LIV Tour which has been at the center of controversy over the past six months, as it has attempted to bring the PGA Tour to its knees. In total, the group of athletes that have confirmed they wish to buy into TMRW Sports covers NFL, golf, and tennis. There have also been a raft of other business investors in the world of sport who have joined forces with TMRW Sports.
McIlroy and Woods have both been among the dissenting voices of the LIV Tour, and there were reports recently that Woods was offered a whopping $700million to join the rebel tour. Whereas, McIlroy, has constantly maintained his stance that he has felt betrayed by those PGA Tour players who have jumped ship.
Mike McCarley gives his comments
Speaking about the strides TMRW Sports has made, the company's CEO and founder, Mike McCarley, said: "Over the past year we've assembled a team of investors who will help deliver on the TMRW Sports' mission to positively impact how sports are experienced in the future. And we've been intentional about the diversity of expertise, thought, and backgrounds as we mobilized this strategic group co-led by Connect Ventures and 25 madisonventures."
He continues: "From the very beginning our plan has been to partner with the best-in-class in every way imaginable, and Tiger, Rory, and I value the support of this unrivaled team of investors, advisors, and ambassadors, who believe in our vision to harness technology to create progressive approaches to sports. Their combined broad reach and cultural relevance will expand potential opportunities and fan bases for TMRW projects."
Something new, something different
The growing list of backers for this innovative tournament has clearly illustrated that the tech-focused league can thrive. Indeed, this over-arching golf competition known as TGL, could be a rival to Monday Night Football, and the 15-match regular season series, which is set to debut in January 2024, could be moved into a prime TV slot.
Each event is expected to last at least two hours and it will take place on a virtual course complete with a tech-infused short-game complex in a stadium to incorporate simulated full-swing shots. Tiger Woods mentioned inte the press release that he wats it to feel like being court side on a basketball game. There will be a live audience, and apparently, there will be plenty of money thrown at it.