Inherently the purest form of betting, Moneyline bets are a natural starting point for novices. They are incredibly popular at the sportsbooks we have reviewed and you can use the Moneyline bet for any sport, whether it be NBA, soccer, hockey or NFL.
But what is a Moneyline bet? How does it work and how can you win money from this type of wager? All of this and much more will be discussed in our in-depth guide.
What is a Moneyline bet?
So, at this point, you may be wondering what is a Moneyline bet? Well, it is simply a straight-up bet where you just predict who the match winner will be. Typically, the sports betting operators we have reviewed will advertise odds in American format while others will have American odds, decimals and fractions.
If we stick with the American odds, a plus (+) sign and a negative (-) sign is used to determine the underdogs and favorites respectively. The odds for the underdog are denoted with a + sign, while the favorites will have a – sign attached to theirs. Moneyline bets will be posted in advance of games, and odds will drift or shorten in the hours leading up to matches.
Reading odds for a Moneyline bet
In essence, reading the odds for a Moneyline bet is straight forward enough. All odds that will be posted on a sportsbook's site are based on wagers of at least $100. So, if we look at NBA odds for a regular season game between the Boston Celtics and the Toronto Raptors, they may well be presented like this:
Toronto Raptors +120
Boston Celtics -140
As you can see, the Boston Celtics are the clear favorites. Therefore, a $100 bet on the Raptors would yield a profit of $120, while a $140 wager on the Celtics would provide a $100 profit for bettors. More often than not, sportsbooks would lean towards the Celtics, but that doesn't necessarily mean you should follow suit. Betting on the underdog can result in bigger payouts, so the odds only tell half the story.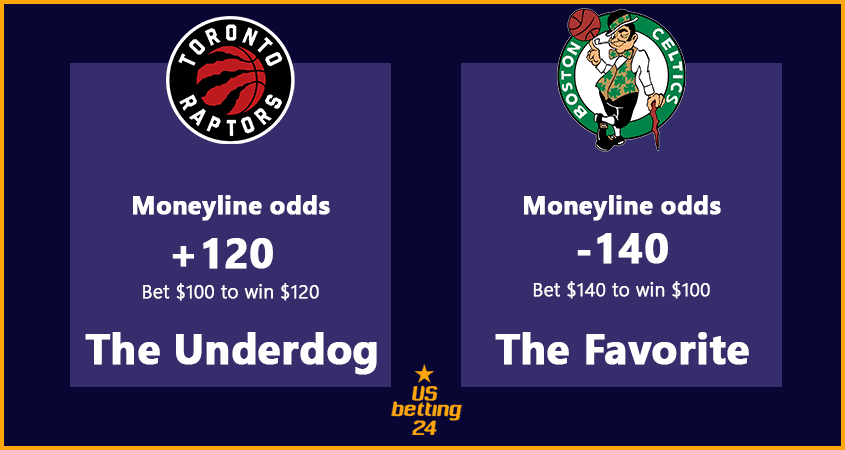 Betting on the Moneyline – Different options
The classic Moneyline is the two-way option where you have two outcomes to pick from – a home win or a victory for the away team. However, the three-way Moneyline option is more intriguing as it takes into account the prospect of a tie.
So, if we are to use soccer as an example, you could get the following odds for an EPL game:
Arsenal -400
Everton +500
Tie +1100
A three-way Moneyline will therefore pay out for either team winning like a normal two-way Moneyline, however, the fundamental difference is that the tie comes into play. A $100 wager placed on a draw could pay out $1,100 if it comes off, so it is worth bearing this in mind.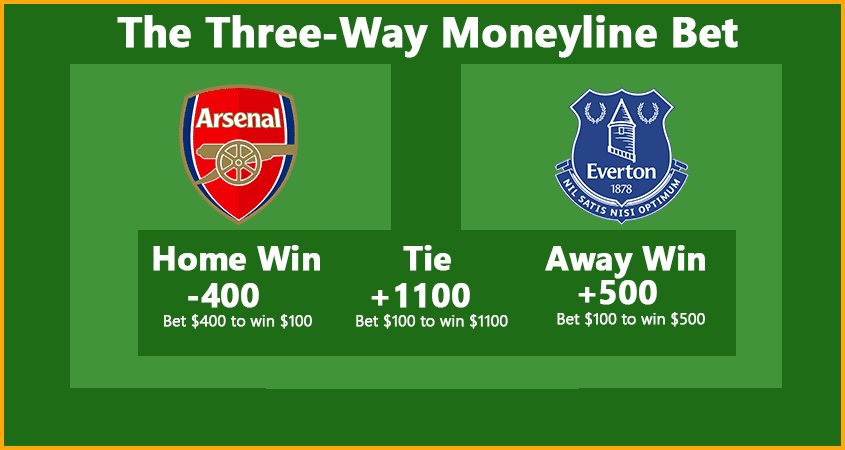 Moneyline betting strategies
Now, you should have a firmer grasp of what the Moneyline bet entails and how you can win money using this type of betting line. However, there are a few other strategies that you should follow up on to master the Moneyline bet. To make things easier, we have pinpointed five strategies, which if you keep in mind, then you won't go too far wrong:
Don't always back the favorite – While it might be tempting to wager on the favorite, they will usually carry short odds, so they won't provide good value for money. Bet with your head and go for the underdog, and you will reap the rewards.
Fade the public – It's quite easy for the public to be suckered into bad bets by sportsbooks, so trust your instincts and don't follow the crowd.
Stick with the Moneyline for now – Moneylines are suitable for those who are new to betting, so before you become more ambitious, build up wins with the Moneyline before moving onto more sophisticated betting systems.
Try in-play betting – If you want a more immersive experience, then in-play betting can be great as you can see the odds change in real time and you are given more control over your wagers. Some sportsbooks, such as bet365 and Unibet, also offer cash out.
Shop around for odds – The Moneyline is a staple of any solid sportsbook, but like with other odds, it's always worth shopping around before committing to a particular site.
Moneyline bets – A Summary
Moneyline bets can be great fun and they are very straightforward to understand. All of the sportsbooks we have reviewed and scrutinized will offer the Moneyline and it is a great introduction to sports betting.
If you have enjoyed what you have read in this guide, then head over to one of our recommended sportsbooks and get involved today.
Moneyline Betting FAQ
Here's the most common questions surrounding Moneyline betting
How does the Moneyline work?
The Moneyline simply requires you to predict who the matchwinner will be.
What is a +300 Moneyline?
A team posted on the Moneyline with +300 odds means they are the underdog. It also means you will get a nice payout with a win – a $100 wager on a team valued at +300 means a very tidy profit of $300.
What are three-way Moneylines?
Three-way Moneylines will also incorporate ties. With two-way Moneylines, the only options are a win or loss.
How are Moneyline odds presented?
Moneyline odds are presented in American format, such as + or – signs to denote the underdogs and favorites, but outside of the US, you will also get fractions and decimals. Most sites will have a bet calculator that will determine any potential winnings you can make from a Moneyline bet.