When we reflect on the pantheon of soccer greats in the game's history, we simply can't overlook the likes of Pele, Maradona, Johan Cruyff, and more latterly, Cristiano Ronaldo and Lionel Messi. Ronaldo has shared the billing with Messi for well over a decade as the world's top striker, but perhaps we should add Erling Haaland's name to that coveted list.
A deep dive into Haaland's career so far
While the Norwegian striker won't be taking his spot at the World Cup Finals in Qatar in November after his country failed to qualify, Haaland has been ripping things up and he has been in sublime form once again this term.
It won't be long before the top US online sports betting sites suspend certain Haaland-related markets. Nevertheless, it wouldn't be a fallacy to suggest that Haaland has assumed the Ronaldo mindset where he's intent on breaking every record going. What separates the best from the very good is their unshakeable belief in their abilities and their insatiable appetite for success. Haaland is on course to have an exceptional term and we're only in October! We have analyzed his form, crunched the numbers, and provided a prediction or two for you to pore over.
Best strikers rolled into one
The archetypal striker of yesteryear may have just been adept aerially or had pace to burn. But if you were to combine the best elements of the top marksmen in today's game, and create the ultimate forward, then Haaland would encompass this. Haaland is blessed with pace, power, and movement, the latter of which is innate, and not found in many of the styles of English Premier League strikers. He follows the play superbly and he can drift into pockets of space inside the penalty area, and his finishing is sublime.
The prototype for the complete striker would be a mix of Ronaldo, Messi, Zlatan Ibrahimovic, and Robert Lewandowski, but you would also include Haaland in that caliber. Haaland is playing football that is on a different planet. He strikes fear into defenders who probably wake up in cold sweats in the middle of the night when they know they have to face him.
Scary numbers
A cursory glance at Haaland's stats in his debut season for City speaks volumes about the transformative effect he has had on the club. While some foreign stars require more time to settle in and transition to another league, Haaland has hit his stride from the very beginning and he has galloped like a thoroughbred horse.
The 22-year-old has already notched up 14 goals in the EPL, which is more than 14 other teams in the division, and he has scored hat-tricks in three successive EPL games – Crystal Palace, Nottingham Forest, and Manchester United. To underline his impact further, Haaland has pulled level with Ronaldo for scoring three EPL hat-tricks after just eight games. He also obliterated Michael Owen's previous record as the former Liverpool striker required 48 games to net three hat-tricks in England's top flight. Oh, and let's not forget Haaland is already a quarter of the way to eclipsing Sergio Aguero's record of 12 EPL hat-tricks which the Argentine set during his illustrious career at the Etihad.
When you factor in that Haaland has netted 18 times across 13 games in all competitions this season, Haaland is extraordinary, and Guardiola admits the striker has posted some pretty "scary numbers". He said: "The numbers speak for themselves. He has done this before here. It is not just our way. "Always we try to help him in our environment. We have this incredible sense that he always looks starving and is so competitive. The numbers are scary." In the Champions League, Haaland has plundered 26 goals in 21 appearances, averaging a goal every 62 minutes, which serves to illustrate his prolific nature.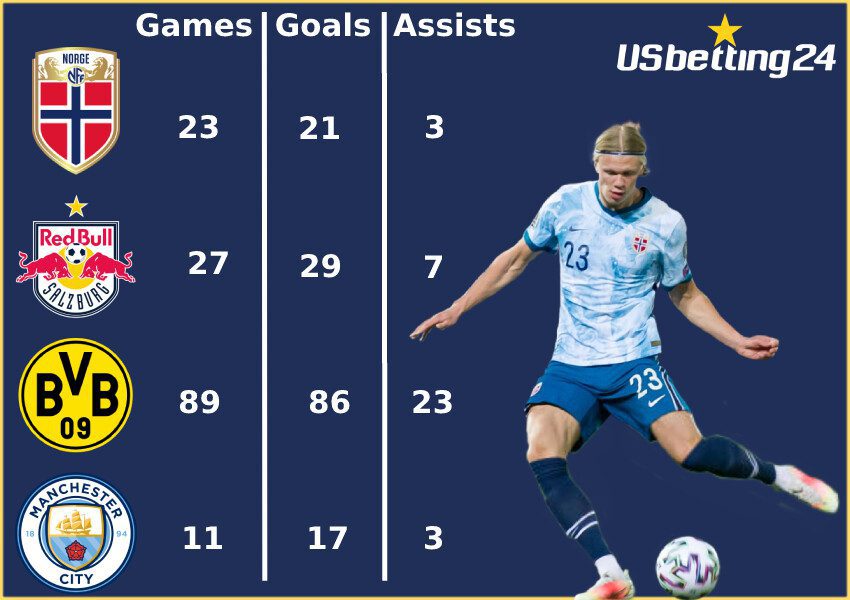 Records to tumble
Inevitably, it feels like a matter of time before other long-standing records begin to tumble. Well, Haaland will be targeting Mohamed Salah's record of 32 goals in a single EPL season over 38 matches which is certainly very feasible. Kevin Phillips, who previously plied his trade for Sunderland, holds the records for most EPL goals in a debut season (30) which he achieved in the 1999/2000 campaign. Meanwhile, Andy Cole and Alan Shearer hold the joint record for hitting the most goals (34) in an EPL season, but that was at a time when the league contained 22 teams and not 20.
Tottenham striker Harry Kane plundered home the most goals in a calendar year in 2017 (39), and with the alarming regularity Haaland is finding the net, it wouldn't be a surprise to see him pass the 40-goal barrier. And providing he were to play every game, well Dixie Dean's record of 60 goals for Everton in the 1927/28 campaign is in danger of falling.
Haaland is ready to break new ground, and in terms of EPL predictions, he is trading at a very short -550 with FanDuel to finish top of the goalscoring charts.
Final piece in the jigsaw
City's owners have become accustomed to seeing their side dominate the EPL in recent times, but the Champions League is still the holy grail. The Citizens have gone close a few times and they were denied by Chelsea in the Final last year. But the acquisition of Haaland has added a different dimension. While they had a highly-vaunted squad before his arrival, Haaland has given them the X-Factor and at the moment, they look virtually unstoppable. Haaland is operating on a different wavelength, and perhaps he could be the difference if City are going to finally lift the trophy that has eluded them for so long. Currently, City are the favorites with BetMGM at +220 to win the Champions League this season, and if anything, Haaland is the final piece that slots into the jigsaw.
Haaland Manchester City Highlights